Optimum Efficiency for Unrivaled Comfort
When temperatures drop, you take comfort in knowing that your furnace will keep you warm. Better yet, this powerful heating system fires up your home's warmth without generating high heating costs. But that's only if your unit remains in good condition.
Although furnaces are sturdy, they're not indestructible. Whether it's from wear and tear or a buildup of dirt and debris, furnaces can incur damage, which leads to performance issues and malfunctions.
Luckily, Bolton can help prevent these issues and protect your budget from a catastrophe with our furnace maintenance services. From frequent checkups to thorough inspections, we make it easier than ever for residents in Gwinnett County, GA, Fulton County, GA, and surrounding areas to stay on top of their unit's reliability.
The ABCs of TLC
Assuming your furnace is in good shape because it appears to be functioning properly is a huge mistake. As it is with all heating systems, the only way to accurately assess your unit's true condition is to schedule a system inspection with Bolton.
During an inspection, our certified technician will examine your furnace inside and out. If we find there are any faulty parts or potential problems, we'll recommend how to address these issues to restore your unit to peak performance.
Giving your furnace the TLC it needs:
Stops small problems before they escalate into larger issues
Leads to more reliable system operations
Enhances system efficiency
Adds years to your equipment's lifespan
Retains energy- and cost-efficient operation
Promotes healthier indoor air quality
… And more!
Bringing Common Furnace Problems to Light
Furnace maintenance is the key to catching problems early. This is important because the longer you operate a grossly inefficient or improperly working unit, the worse it is for your budget. It gives small problems time to grow into more costly repairs and can lead to higher monthly energy bills, reduced comfort and more.
Help our team at Bolton help you catch problems as quickly as possible. To do this, we urge you to keep an eye on your furnace's performance and contact us immediately at the first sign of trouble. From completing a repair in Gwinnett County to performing furnace maintenance in Fulton County, Georgians can count on our technicians to address their unit's problems properly with the furnace service that's needed.
Look out for these common furnace problems: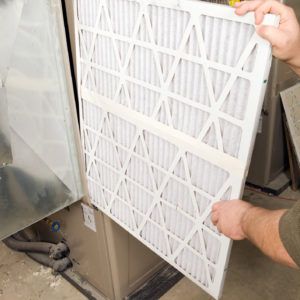 Malfunctioning thermostat. Older thermostats can become damaged or simply wear out. This gives you less control over your heating system. One way to solve this dilemma is to install a programmable thermostat. Better yet, upgrade to a smart thermostat. This device "learns" your daily routine and your comfort preferences. Then, it uses this information to adjust your home's heat accordingly, which leads to maximum energy savings.
Mechanical problems. Your fan motor, drive belt and bearings are all vulnerable to wearing out. When this happens, you have to replace them. If you don't, you'll experience serious airflow problems or, even worse, total system failure.
Dirty or clogged air filters. Air filter problems can be hard to notice. If you fail to replace your air filter within the recommended time frame, it will become extremely dirty, causing severe efficiency and comfort issues. Typically, you should replace your unit's air filters every season. However, if you have pets that shed a lot, you should consider replacing it more frequently.
Ignition problems. Most modern furnaces have thermostats with electric ignitions that only turn the burner on when the thermostat calls for heat. Ignitions can become faulty and burner nozzles are susceptible to clogs. As a result of ignition problems, your furnace will fail to turn on.
Cracked heat exchanger. You may have heard of this component, but may not know what it does. The heat exchanger separates the combustion process from your indoor air supply. As they age, heat exchangers can crack, which causes efficiency and functionality issues. It's best to replace an aged heat exchanger before it cracks.
Poor ventilation. Your furnace needs air to perform the combustion process and also needs ventilation to expel gases. However, the ventilation is not always installed properly. When you turn to Bolton and schedule furnace maintenance in Gwinnett County, our techs will double-check your furnace's ventilation and fix it if necessary.
Inefficient performance. Older furnaces burn at 65 to 75 percent efficiency. This means that 25 to 35 percent of your heat gets lost. Although this efficiency percentage was years ago, it's not anymore. Today's furnaces routinely operate at 95 percent efficiency or higher. If you're operating an older furnace, it's wise to replace your outdated unit. Upgrading to a higher efficiency furnace leads to significant savings and improved comfort.
Say Goodbye to Your Comfort Worries Today!
Don't settle for anything less than what you deserve—and that's a furnace that's in peak condition, delivering optimum efficiency and comfort. We encourage residents in Gwinnet County, Fulton County and surrounding areas to take advantage of our furnace maintenance services at Bolton today by dialing 770.268.2010 or contacting us online.