FAQs
Got questions about our heating and air services? We've got answers!
What makes an HVAC system?

The traditional HVAC system is made up of an outdoor unit (air conditioner), an indoor unit (either furnace with coil or air handler with supplemental heat) and duct system. Your system must be properly sized and designed to deliver conditioned air throughout your home efficiently.

What's the best HVAC system for a home?

One designed by Bolton, of course! There is no universal HVAC system. That's because the best HVAC system varies from one home to the next and depends on the specifics of each space. When it comes to finding the best HVAC system for your home, Bolton takes a personal approach. Our pros will accurately measure your home, room by room, before performing the manual J-load calculations for proper equipment sizing in each zone. We test your ductwork to assess airflow and recommend corrections when needed. We perform additional calculations such as Manual D, S and T when needed. Then, using our findings, we'll provide the best options for you, including variable speed air conditioners and two-stage or modulating furnaces in addition to standard options. We also offer extended warranties.

Where is the HVAC system in a house?

The air conditioner (condensing unit) will always be located outside the home. Here in the Atlanta area, the most common places to locate the heating unit are the attic, basement or crawlspace. In homes with multiple levels, it is common to have one furnace in the attic and another in the basement mechanical room.
Residential Plumbing Services in Atlanta, GA
Homeowners have a long list of things they want to do around the house. Redoing their kitchen or replacing their roof may be at the forefront of their minds, but the one that they often take for granted until something goes wrong is a fully functioning plumbing system. For the people of Atlanta, GA, residential plumbing services are something that they don't know they need until they need it, and Bolton Plumbing, HVAC & Fireplaces is here to help!
Our expertly trained team can handle the job no matter which residential plumbing services you require. We have experience handling a wide range of plumbing issues around Fulton and Dekalb County, GA, including:
Pipe Repair
Water Leak Repair
Clogged Toilets
Re-Pipe
Valve Replacement and Repair
Toilet Repair
Water Treatment
Dripping Kitchen Faucet Repair
Outdoor Hose Bib Replacement
Outdoor Faucet Replacement
Water Heaters
And More!
Get 10% Off Your Next Frost-Free Hose Bib Installation!
Offer Valid until December 31
Expert Plumbing Repair Services
You may never know exactly when you need residential plumbing services in Atlanta, GA. Plumbing issues can spring up when you least expect them, and you'll need an expert to come out and provide assistance as quickly as they can. The right plumbing repair service can alleviate a world of issues, and the Bolton Plumbing, HVAC & Fireplaces team is here to give you that helping hand when you need it most.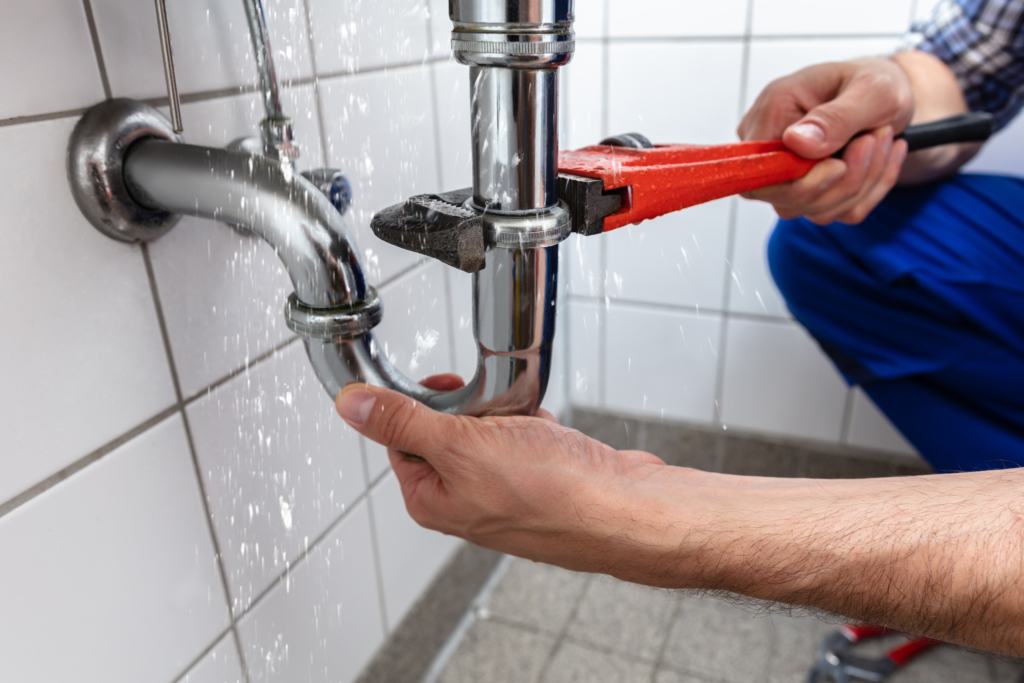 Pipe Replacement
The average plumbing pipes have a lifespan of upwards of 100 years with the right materials and construction. So when you have a significant plumbing problem, it often takes you completely by surprise. When it comes to clogged toilets and burst pipes, sometimes the only solution is to re-pipe your entire system with the best residential plumbing services in Atlanta, GA.
Pipe replacement can prove a daunting task for homeowners to think about; however, with the right plumbing repair service on your side, you won't have to worry as much about these daunting issues and how they will affect your home. As soon as we finish with the pipe repair and replacement process, you won't have to worry about the kinds of unforeseen problems that lead to needing pipe replacements in the first place.
When people think of kitchen plumbing, the first major maintenance projects that come to mind are usually water leak repair, a dripping kitchen faucet repair, or a valve replacement for their sink. Various water treatment needs can fall by the wayside as you address the more visible needs of your kitchen. However, with the right residential plumbing services on your side, you can ensure that you and your family enjoy thoroughly treated and clean water for all of your kitchen needs!
Water Heater Maintenance
Our residential plumbing services in Atlanta, GA, extend beyond your need for help in the kitchen and other bathroom plumbing services. While you may need valve repairs, clogged toilet repairs, or anything else of the sort, ensuring you have hot water delivered to all parts of your home is high on our priority list as well. That's where our water heater maintenance services can help!
If you're experiencing instances where your water isn't coming out as hot as you would like, or you have seen specific areas in your home where the water temperature is lacking, our team can come out and take a look! We'll examine your water heater, diagnose the problem, and provide our expert residential plumbing service to renew your peace of mind. In addition to our indoor plumbing services, we can help with your outdoor faucet and hose bib replacement needs!
Homeowners may take their plumbing for granted, but they need a service they can trust to handle the job when an issue comes up unexpectedly. With the right residential plumbing services in Atlanta, GA, homeowners can rest assured that they'll be able to handle any unexpected plumbing issues that may arise.
Contact Bolton Plumbing, HVAC & Fireplaces to schedule your next service call for your Atlanta, Fulton County, or DeKalb County, GA, home today!