Boost Your Comfort & Savings With This Powerful Unit
Did you know half of the energy used in a typical home goes to heating and cooling it?
It's true. However, you can cut your heating and cooling costs without sacrificing your comfort by installing a high-efficiency gas furnace. This powerful heating system will efficiently heat your home in a budget-friendly manner.
From a gas furnace installation in Hall County to a gas furnace repair in DeKalb County, no one offers more dependable furnace services than Bolton. You can count on us to ignite the flame for a cozier home—and keep it lit.
Get 0% financing for 60 months on the installation of a new HVAC system!
Offer valid until March 31
Fuel Your Home's Warmth With a Gas Furnace
A gas furnace is a powerful heating unit that makes total comfort effortless. But that's not all. In addition to keeping your home warm, it circulates your home's air to keep it fresh. This is important because fresh air is easier to heat than stale air. Essentially, this highly efficient unit boosts its own efficiency.
In the HVAC industry, a furnace's efficiency is measured using an Annual Fuel Utilization Efficiency rating—or AFUE rating. This percentage is calculated by determining how much fuel is converted into heat vs. how much was wasted. AFUE ratings for gas furnaces have significantly increased over the years. A decade ago, gas furnaces operated at 65 percent efficiency. Today's units operate at 95 to 96 percent efficiency, which means less than 5 percent of fuel goes to waste. This high AFUE rating leads to significantly lower energy bills.
Opting for a gas furnace installation in DeKalb County, GA, Hall County and beyond leads to major benefits. This unit:
Reduces your home's energy consumption
Adds value to your home's resale price
Improves your indoor air quality
Delivers constant and consistent warmth from room to room
… And more!
When you turn to our team at Bolton for a gas furnace installation in Hall County, GA, DeKalb County, GA, and beyond, we'll help you identify the right furnace and fuel type to meet your needs.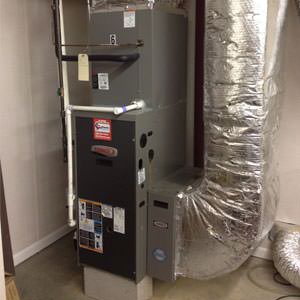 When choosing a furnace, keep this in mind: Size matters. How do you determine the perfect size unit for your home? Call Bolton. Our pros are expertly trained to perform necessary tests for load calculations, which will reveal the proper size furnace for your home. Learn more about our infiltrometer blower door test, airflow verification process, and more here.
Don't forget to schedule routine checkups for your unit. In order to operate at its maximum efficiency, a gas furnace must be in good condition. This means you should pamper your unit with the maintenance it needs and address any need for a gas furnace repair right away!
Opt for the Most Efficient Unit on the Market!
We encourage our customers to choose a sealed-combustion gas furnace over an atmospheric one. Besides keeping you comfortable at a reasonable cost, sealed-combustion furnaces are not vulnerable to hazardous backdrafts, which have the potential to put dangerous combustion gases, such as carbon monoxide, into your living space.
With sealed-combustion furnaces, the combustion chamber is sealed, giving you greater control over the combustion process. It also has an air intake pipe that uses outdoor air to perform combustion, leading to 95 percent or more efficiency. This high efficiency isn't just beneficial for your budget; it's also better for the environment.
Why Should You Consider a High-Efficiency Furnace?
The most obvious benefit of high-efficiency units is, of course, the improved efficiency. The more efficiently your furnace operates, the less energy it requires to keep your home warm. This, in turn, saves you money on your utility bills and has a significantly less negative impact on the environment.
While we don't typically heat our homes here as much as we cool them, 95 percent AFUE sealed-combustion furnaces are much more efficient than traditional furnaces at 80 percent AFUE.
The benefits of sealed combustion also extend past energy savings. Most newer homes are more airtight to improve energy efficiency. Meanwhile, you may have made improvements to your older home, such as encapsulating crawlspaces or adding spray foam insulation, to enhance energy efficiency. These are great improvements and make a home much more comfortable. However, this affects the combustion air that's required for a furnace to operate properly and safely. This is where sealed-combustion furnaces are so wonderful. They draw combustion air from outside of the home, eliminating the risk of carbon monoxide entering your living space.
High-efficiency gas furnaces cost 25 percent to 40 percent more. However, they are worth the investment due to the significant savings you'll see over time.
At Bolton, we're committed to making the comfort you desire—and deserve—more affordable. Learn how our financing options can make the initial cost of upgrading to a high-efficiency unit easier on your budget.
Turn Your Comfort Loss Worries Over to Us!
Want to start cutting your heating costs right away? Upgrade to a gas furnace today! To schedule an estimate for a gas furnace installation or a gas furnace repair in DeKalb County, Hall County and beyond, call Bolton at (770) 449-3692 or contact us online!