Tried-and-True Comfort
If you have a traditional wood-burning fireplace and you're looking to upgrade to a more energy- and cost-efficient solution, Bolton has the answer for you. Rather than dealing with the hassle of removing your fireplace or hunting for a new spot in your home to add a freestanding stove, you can insert a new unit into your old firebox. Yes, that's right. With our first-class wood stove inserts and dependable fireplace installation and fireplace and logs service and repairs, it's that easy to transform your traditional and timeless wood-burning fireplace into a significantly more efficient heating system.
Today's beautiful, yet powerful wood stove inserts and gas stove inserts for sale in Gwinnett County, GA, allow you to upgrade the functionality and appearance of your fireplace at the same time. But that's not all. There are a plethora of other advantages to upgrading.
Here are some of the most appealing reasons why our comfort specialists urge you to buy a wood stove insert in Gwinnett County, GA.
Roaring Efficiency
A wood-burning insert is essentially a wood stove without legs. This unit slides directly into your existing firebox where it functions like a real wood-burning fireplace—but in a more efficient manner. When a fire is burning in an open fireplace, the majority of the heat escapes up the chimney. However, with a wood stove insert, the fire burns in an enclosed space. This, in turn, converts your existing fireplace into an energy-efficient powerhouse that sends more heat where you need it—into your home.
The Next Generation of Fire
For centuries, wood-burning fireplaces kept people warm during the chilly winter months. Well, an insert is a modernized twist on this classic heating solution. It allows you to retain the ambience you crave but with a design that seamlessly fits today's technology-driven world. However, from its fuel source to the heat it produces, everything about a wood-burning insert remains just as real as a traditional fireplace. But even better, an insert puts the wood it's burning to maximum use, running hours longer before more wood is needed.
Warmth You Can Count On
Fireplaces have a reputation for being a dependable heating source. Wood inserts take this reliable comfort to the next level. That's because, even when the power goes out, you can count on a wood stove insert or gas log insert, to continue keeping you toasty warm.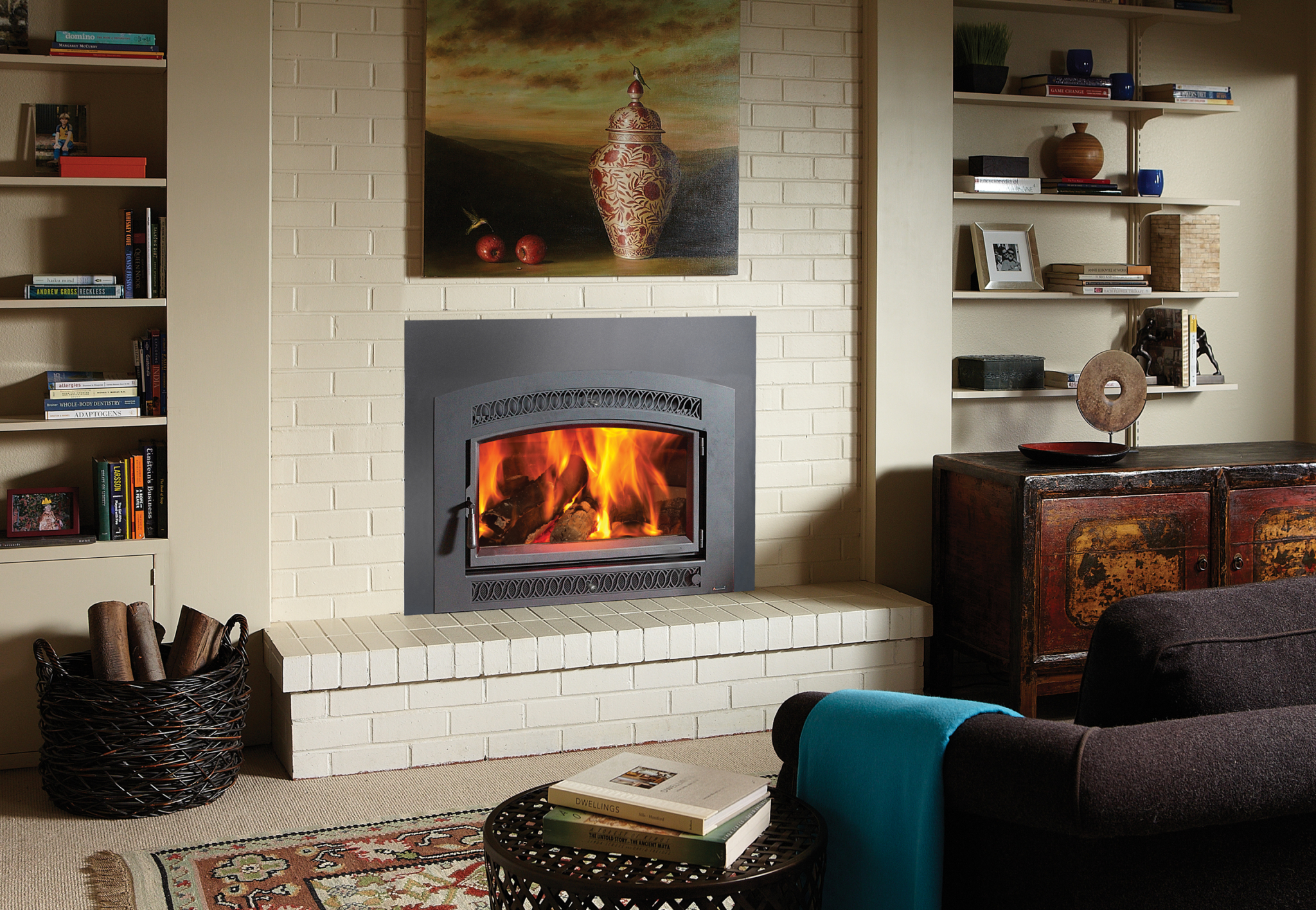 With Us, You're in Safe Hands
At Bolton, we not only offer top-of-the-line hearth brands and the full spectrum of fireplace supplies, we perform flawless fireplace installations and fireplace and logs service and repairs, too. So, when it comes to adding a wood stove insert to your home, you can count on our experts to proficiently and securely install your unit into either a masonry or prefab fireplace and keep this new unit in peak condition for years to come.
Since a wood insert can't come into close contact with any combustible materials such as carpet or wood, we need to take extra safety precautions when we install an insert into a prefab fireplace. We pay close attention to clearances to ensure we perform a proficient but, most importantly, safe installation. In order to add an insert, your chimney must be relined with stainless steel. This ensures that it can withstand the higher heating temperatures that wood inserts produce.
Your safety is always our priority. To ensure your home is equipped to operate a wood insert, our team will perform a professional site inspection. If we find it's not safe to install a wood insert in your home, we won't just give up on your dream. Instead, we'll formulate a Plan B. Whether that means rebuilding your fireplace or installing a gas insert, we will find a way to make your space warmer and more energy efficient.
Feed Your Comfort Flame With Bolton
Say goodbye to knocking on wood and taking chances with the ambience and comfort you crave. Instead, use the wood to guarantee your comfort. To get started, fill out our online form, visit our showroom or call us at 770.268.2010 today!
Fireplace Xtrordinair
Xtrordinair offers a wide selection of U.S.-made wood inserts that are custom crafted with an artful eye for stylish detail. These hearth units are designed to deliver high performance, clean-burning heat while showcasing a spectacular and realistic fire.
Cozy up to North America's favorite choice in fire for over 25 years. As a world-class manufacturer of high quality wood inserts, Lopi combines beauty and efficacy to transform your fireplace into a hearth that radiates welcoming warmth for years to come.
Using the world's finest materials and the most advanced heating technology, HearthStone has handcrafted each of its wood inserts for over 35 years. This brand's pre-eminent, American wood units will transform your home into your dream comfort zone.
Starting as a two-man operation in 1971, Buck Stove has grown tremendously over the decades. This brand's wood stove inserts are made with modern designs and classic clean lines, reflecting the same quality and craftsmanship unique to Buck Stove since Day One.