The Ambience of Luxury
Gas lighting was homeowners' predominant lighting source for years—until electricity was invented. However, as this new technological advancement took the spotlight, gas lighting didn't fade. Instead, it endured and blazed a new path. Now, gas lighting embodies luxury, elegance, beauty and class.
If you're looking to add to or change the aesthetic feel of your home, Bolton is here to help. As the store where you can find top brands of gas lights for sale in Fulton County, GA, and gas lanterns for sale in Gwinnett County, GA, and beyond, we guarantee our professionals will light the way to a space you're proud to call home.
See Your Home in a New Light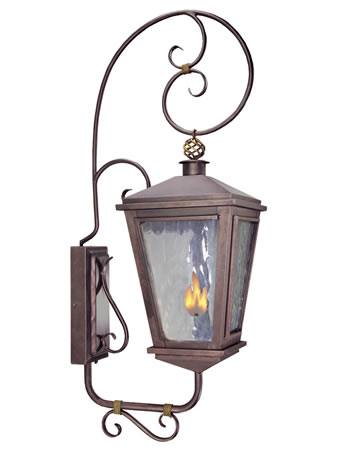 Gas lighting has withstood the test of time. This attractive and cost-effective lighting solution is proven to be a durable and reliable way to add bright, natural light to your outdoor space.
The organic glow of a gaslight's flame is softer than the hard light of a bulb. This lessens the glare and unkind shade associated with other lighting options, while creating an elegant ambience that guests and passersby will find inviting. Best of all, without being dependent on electrical wiring, you can count on your gas lighting to continue illuminating through the night even if your power goes out.
Bringing the Benefits to Light
With the ability to be mounted on exterior walls, porch ceilings or lampposts, gas lights and lanterns give you the flexibility you need to add charm and character to your home, business or outdoor living space in the exact manner you desire.
Shedding Light on Our Gas Lighting Brands
If you're wondering where to buy gas lanterns in Suwanee, GA, and its surrounding areas, look no further than Bolton. From delivering dependable fireplace installations and fireplace and logs service and repairs to offering grills, smokers, fireplaces, stoves and fireplace accessories from only the most elite brands in the industry, it's clear our team is committed to exceeding your expectations in both the quality of our products and the satisfaction of our customer care. When you turn to us to buy gas lights in DeKalb County, GA, you can trust that the outdoor gas lighting brands we offer will light the way for increased ambience for your home or business:
Bevolo
Solara
EverGlow by MHP
Tempest Torch
Contact Bolton for Gas Lights & Gas Lanterns
The added elegance, class and beauty your space needs are just a call away. So don't delay. Dial 770.268.2010 or visit our showroom today!
If you'd prefer to see our gas lighting options in person, then come visit our conveniently located showroom Monday through Saturday. Here you can explore all of our products, including our grills, smokers and more. Best of all, from homeowners who want to buy gas logs in Suwanee, GA, to business owners who want to buy gas lights in DeKalb County, GA, our professionals will assure you're confident in your purchase—and continue to stand behind your decision for years to come.