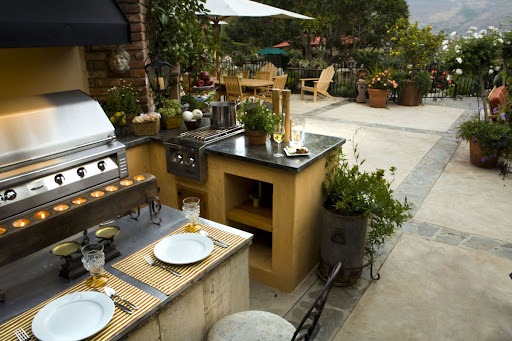 Each year that spring approaches offers a new opportunity to build a beautiful outdoor kitchen. Outdoor kitchens are fantastic options for your home, offering unique customizability and taking advantage of a beautiful backyard by giving you a place to host friends, family, and other people you love.
Building an outdoor kitchen is a fun and exciting time, but like any project, you should have a few things in mind before agreeing to the job. At Bolton Plumbing, HVAC, & Fireplaces, we build some of the finest outdoor kitchens in Georgia, so we know exactly what you'll need to know before proceeding the with the installation. This will help cut out loose ends and lead you to a beautiful, long-lasting, and comforting outdoor kitchen.
Consider the Relationship Between Your Indoor and Outdoor Kitchen
Your kitchen may be on the outside, but your indoor kitchen does influence how its exterior sibling comes out. Ask yourself, how close do you want your outdoor kitchen to be to the one indoors? When traversing into and outside the home, what will the ideal traffic pattern look like? You may cook in the outdoor kitchen, but there will come a time when people are frequently walking indoors and out. You might also want to direct traffic closer to your side door or backdoor instead of a more hard-to-reach location. Also, how much do you plan on cooking indoors vs. outdoors? These all play a role in the ultimate site and design of your masterpiece.
Choose Materials Built to Last Through Rough Weather
Any good contractor won't begin any project without considering the outdoor elements, but there's a big difference in the materials you choose for your kitchen. Select low-maintenance and easy-to-care-for materials that won't get easily scratched, dented, or damaged when winds or rain come about. High-quality stainless steel is a wonderful choice for most outdoor kitchen appliances and products because it's very sanitary and corrosion-resistant. On the other hand, you should try to avoid materials like limestone that are highly porous.
Make Sure the Design Complements the Aesthetic of Your Property
An ideal outdoor kitchen should complement the look of your property like none other. This can give your inside and outside a blended feeling similar to that of a music album with great transitions between songs. Plan out your patio and other living features with some of these popular outdoor kitchen styles in mind:
Contemporary
Traditional
Rustic
Highlight Some Outdoor Kitchen Must-Haves for Your Own Convenience
Look, your outdoor kitchen was meant to be somewhere where you can have an enjoyable experience. So highlight some non-negotiable or must-have features like the type of island you want, specific storage options, or lighting and electrical additions. To best fulfill this step, you should have a keen understanding of your budget. It's best to include everything you desire in the initial project and maximize your budget to avoid any future regrets. So highlight the things you definitely want to be included in your project and work with your contractors to make it happen!
Make Sure You Factor in Access to Plumbing and Utilities
The more kitchen appliances you choose, the more you'll have to factor in plumbing and utilities. This will impact where your kitchen is built and how much access it has to electricity and power. Your contractors may need to add certain hookups and electrical connections to provide extended power if necessary, which will be reflected in the installation cost. You can factor this into your budget beforehand to limit any surprises.
For More Outdoor Kitchen Tips or to Get the Perfect Outdoor Kitchen Built for You, Bolton has You Covered
Like most things in life, perfection requires planning, and that's certainly true for your outdoor kitchen. And yet, many homeowners go into the process without a clear understanding of important factors like where the utilities will go or what materials to use to help their outdoor kitchen last for years in the future. It's why you should get your outdoor kitchen installed with the help of the Bolton Plumbing, HVAC, & Fireplaces team.
Contact us today to get your hands on modern home products, grills, and so much more with a premium outdoor kitchen installation, or add a few outdoor gas lights to set the perfect mood in your kitchen.