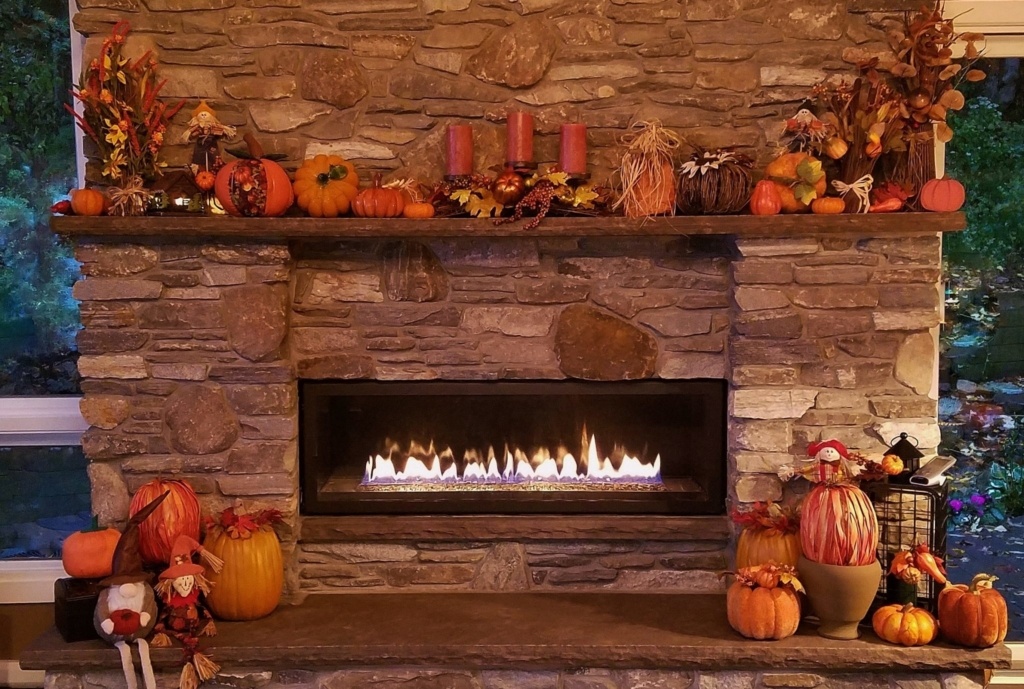 Get a Taste for Our Sweet Fireplace Options
What's the trick to staying warm during Georgia's chillier months? Treating yourself to a new fireplace! And our team at Peachtree Comfort Gallery is here to help you with your fireplace installation in Buford, GA, and nearby.
Which of our fireplace options will you choose? In honor of the Halloween season, here's a taste of the sweet types we offer.
Gas Fireplaces: The Pure Enjoyment of a Real Fire—Without the Hassle
When you're craving chocolate, the question isn't: Do you want a candy bar? It's: What size candy bar should you choose: bite-sized or king-sized? It depends on whether you want just a taste of deliciousness or enough to fully satisfy your craving.
When it comes to choosing between a wood-burning fireplace and a gas fireplace, the same question applies.
Do you want a taste of coziness? Choose a wood-burning fireplace. While you'll love the mood it creates, wood-burning fireplaces have, at best, a dismal 10 percent efficiency rating. This means 90 percent of the heat it produces never makes its way into the home, giving you a hint of a cozy indoor space.
However, if you want to satisfy your craving for complete coziness, choose a gas fireplace. This unit is installed directly into the structure of your home, eliminating the need for an open chimney and the drafts (and significant energy loss) that come with it. With more heat making its way into your home rather than out, you'll find your craving for a cozy home fulfilled.
But that's not all. A gas fireplace satisfies your craving for savings, too! This, in turn, increases your home's energy efficiency, potentially lowering your monthly energy bills by a whopping 25 percent! Even more, it eliminates the work that comes with a wood-burning fireplace. All it takes to ignite a gas fireplace is the touch of a button!
Stoves: Be Amazed by This Timeless Option
While candy corn may not be everyone's favorite Halloween candy, its supporters are extremely loyal. Plus, it's iconic. Unlike most of today's popular treats that were introduced within the past 100 years, this corn-kernel-shaped candy has been around since the 19th century and has become a Halloween staple.
Stoves are the candy corn of our industry. For centuries, homeowners have relied on them to keep warm and cozy, establishing their importance. But unlike candy corn, which hasn't changed much over the years, stoves have come a long way since they first appeared on the scene.
At Peachtree Comfort Gallery, we offer innovative wood stoves from industry-leading brands. This option may be right for you if you're looking for:
Less costly heating bills: Lowering your thermostat 1 degree for 24 hours saves 3 percent on your energy bill each month. Wood stoves give you the heating flexibility you need to do this. When you fire up a wood stove, you can turn down your main heating system's thermostat to keep unoccupied rooms cooler—while keeping toasty warm.
Electricity independence: Installing a wood stove prepares your home for the inevitable: a power outage. Even if the lights go out, your wood stove will ensure your comfort is not compromised.
Fast, efficient heating: Wood-burning stoves warm your space in a way that hot air systems can't. Instead of blowing heated air into your home, wood stoves generate radiant heating. This means they throw out warmth from every side to deliver comfort in every direction, warming your space fast and efficiently.
Inserts: A Crisp Upgrade for Your Traditional Fireplace
When candy makers add crunchy-crisped rice to a smooth milk chocolate bar, they elevate the taste experience while staying true to an original classic. This concept applies to fireplace inserts, too. Gas and wood stove inserts don't replace your traditional fireplace. Instead, they slide directly into your firebox to enhance appearance and performance. Like a chocolate bar with crisped rice, an insert is your original fireplace—only better!
An insert is a reliable, energy-efficient alternative, offering you all of the advantages of a fireplace without the inefficiencies. With a venting system that prevents heat from escaping up the chimney and a heat distribution fan that pushes the heat it produces into your home rather than out, this unit can be up to 80 percent more efficient than your old fireplace.
Opt for a Unit That Will Withstand the 'Taste' of Time
Don't fall for other companies' tricks. Fill out our online form or call us at 770.268.2010 to schedule fireplace installation service in Fulton County, GA, and nearby with the team that will treat you right!