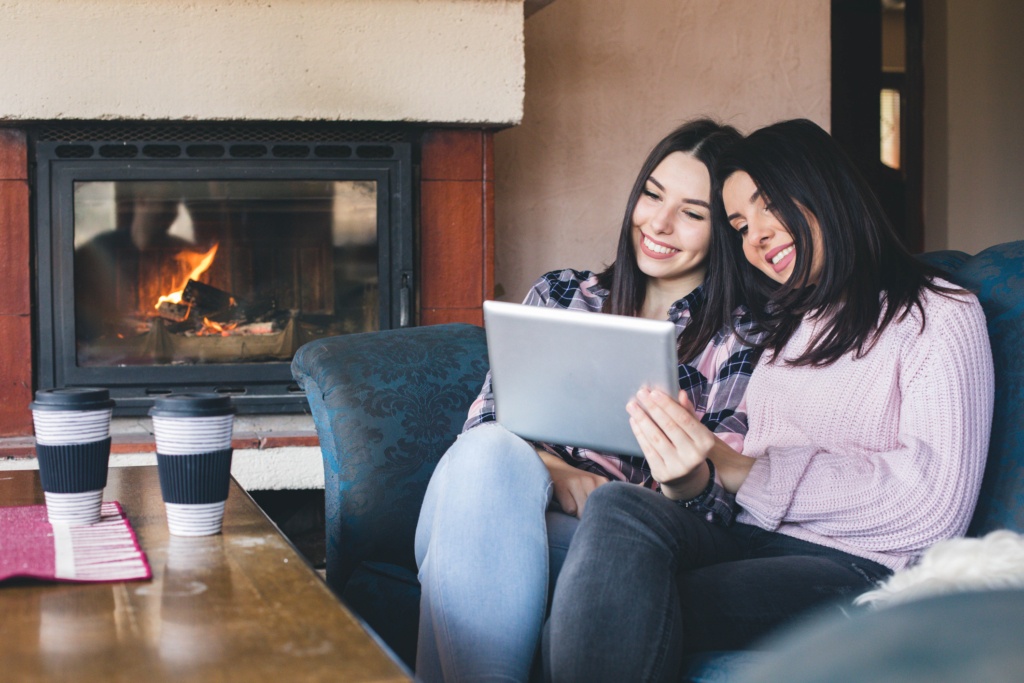 Find Out How to Prepare Your Unit for Spring
With spring approaching, moments cuddled up in front of your fireplace are numbered. Before extinguishing these cozy times for good, make sure to tackle important tasks to optimize your fireplace's lifespan and to keep your home and family safe. At Bolton, we're happy to share these tips with you!
What sets us apart from other fireplace installation companies in the Greater Atlanta area is our dedication to our customers. After we install a fireplace, insert or stove, we don't just pat ourselves on the back. Rather, we continue to work with you to ensure your unit operates as efficiently as possible—for as long as possible. This means providing expert fireplace repairs and maintenance service as well as keeping you informed on need-to-know tips and tricks about owning a fireplace.
So, here's how to properly care for your fireplace at the end of heating season.
For Gas-Fueled Fireplaces & Inserts
There are many advantages to a gas fireplace, gas insert or other gas-fueled unit. The biggest benefit: Eliminating wood also eliminates the mess. However, that doesn't mean you're off the hook with cleaning!
Gas units require an in-depth cleaning annually to ensure they're operating as efficiently as possible. During this task, you need to:
Thoroughly clean your unit's glass panel or door using a soft cloth and a cream cleanser that's specialized for fireplaces.
Vacuum the inside to remove any debris that has accumulated, including dust, soot, dirt and creosote.
Use a dry paintbrush to brush soot off your gas log set, if your unit has one.
Does your gas fireplace have a standing pilot? If so, turn off the pilot light at the end of the season. This will lower your utility bills, saving you money during Georgia's warmer months!
For a Wood-Burning Fireplace
With a wood-burning fireplace, post-season cleanup is more involved—and dirtier. So, before you begin cleaning your fireplace, you should lay newspapers in front of your unit, cover nearby furniture with a drop cloth and wear old clothes. Also, consider wearing goggles and a facemask to avoid getting dust or ash particles in your eyes, nose, mouth and lungs.
Here's what to do:
Take out the grate and any logs left in the fireplace.
Clean out ashes and place them in a metal container.
Vacuum the inside of your firebox to remove any remaining debris.
Scrape away creosote from the inside walls using a wire brush. If that doesn't do the trick, mix together baking soda and water to form a paste. Apply it to the inner walls, scrub with a wire brush and rinse with water.
Wipe down the inside of your unit using a wet cloth to remove any remaining soot or dirt.
Clean any glass using water or a streak-free window cleaner.
Clean the masonry surrounding your unit and the mantle.
Scrub the grate to remove any creosote or soot and return it to the firebox.
Schedule Fireplace Service With Our Pros
No matter what type of fireplace you have, scheduling a maintenance appointment is important for the purpose of safety and efficiency. When you book with Bolton, our professional cleaning includes a safety inspection of your unit's burner, pilot light, spark ignition, valve, safety switches, thermostat, electrical system and more.
We're Here to Help With All of Your Fireplace Needs
Now is also the time to address any operational issues with your unit. From your pilot light not igniting properly to a faulty main control valve causing inefficiencies, you can count on our gas fireplace repair company to resolve any and all problems with your fireplace, stove or insert. Reach out to us online or call us at 770.268.2010 today!