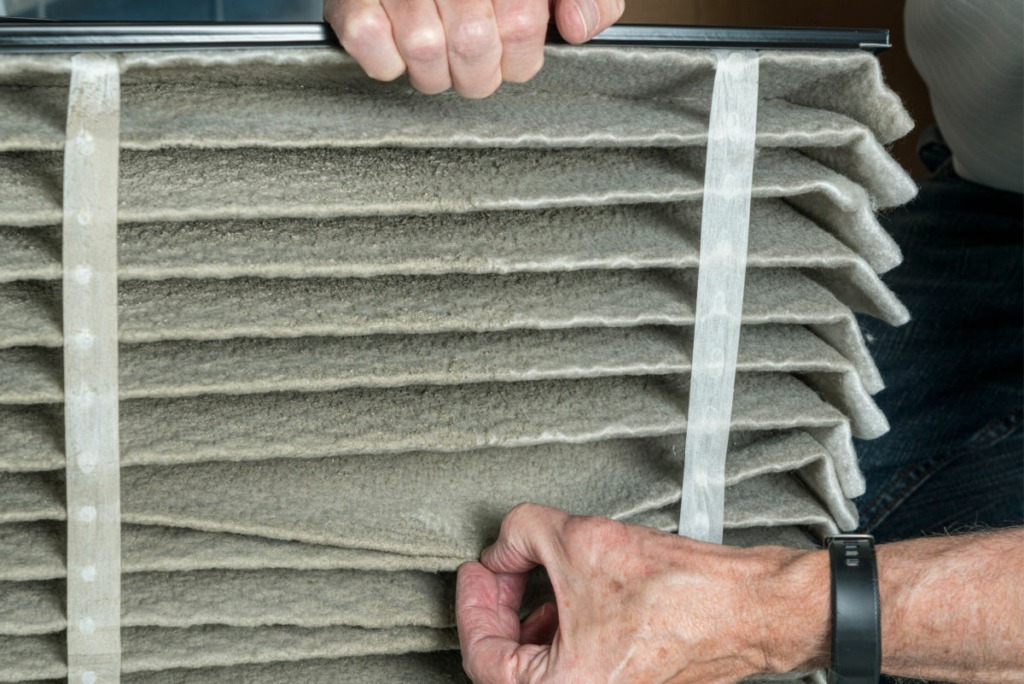 HVAC systems contain many moving parts, all with different responsibilities and requirements. One compromised function can lead to a whole host of problems, even something that seems as simple as a filter. Furnace filters are responsible for keeping the quality of the air entering your home clean without restricting airflow to the unit. The more dust and debris they accumulate, the less space there is for more, but how can you tell when it's time to change a clogged filter? No one wants to take out and re-insert the filter every day, so pay attention to a few key signs that it's time for a new filter.
What Is a Furnace Filter?
Furnaces collect air from inside the home via a blower motor, which is then heated and recirculated. Furnace filters are meant to provide a layer of cleanliness and protection for the air, removing impurities like dust and pet dander. A clean filter protects dirty outside air that comes into the home, but if you aren't checking your filter, it can lead to a very uncomfortable environment for anyone in the house.
How Often Should Furnace Filters Be Changed?
If you want to avoid costly home furnace repairs, change your filters every three months or 90 days. This is a general rule of thumb, but you should also consider lifestyle choices and changes and your filter type. For most homeowners, three months is a great tip, but pay attention to a few of the signs below to better understand how to keep your furnace running efficiently.
The Signs You Might Need to Change Your Filter
So how do you know it's time to change your furnace filter? Not every sign will occur at the same time, but there are bound to be a few that give homeowners a hint that an air filter replacement should be in the cards. Many homeowners have varying degrees of usage for their units, so be sure to pay close attention and adjust furnace usage and filter replacement accordingly.
You Use Your Furnace a Ton
Whiles residents in warmer climates may not need to run their heaters much over the winter, homeowners in cooler climates do. For some, it's common to have a heater cycling all day, and a system that works harder than most should have its filter changed more often. Even if you don't change it before 90 days, don't let that time period get too far away before getting a new filter.
Are Your Windows and Doors Always Open?
Because heating and cooling systems use air from inside the home, all that needs to be done is keep your windows and doors closed, and the filter won't have to run as hard. If you constantly have windows and doors open — thus bringing dirty outside air into the home — it gives your filter more to deal with.
You Suffer From Allergies
People with allergies benefit by having quality filters. Getting as many allergens out of the air as possible is a great way to keep furnaces and air conditioning systems working smoothly. A dirty air filter is more likely to miss dirt and debris, leading to an uncomfortable feeling all day long.
You Have Pets
We love our pets, but that doesn't mean we love all they give off. Pet remnants and dander all combine to make your filter work extremely hard. All this extra work leads to clogged filters and leaves cat hair and dog shedding around the house. Additionally, dirty filters allow pet dander to percolate within your unit and can lead to major damage.
You Smoke in the House
The more you smoke at home, the shorter the lifespan of the furnace filter. Smoke can take months off the life of a filter, and the last thing you want is for those remains to percolate around the home. Consider making the change a month earlier than normal and even sooner if you smoke indoors daily.
Changing a Filter Is Easy — Especially When You Get Help From the Pros
Dirty filters are extremely common, so don't feel fear if yours is stuffed with dust and debris. It's also extremely important to change your furnace filter, especially if you run your unit daily. Changing filters is simple and easy, but many homeowners either aren't aware that they need a change or forget about it. Fortunately, Bolton Plumbing, HVAC, & Fireplaces provide furnace maintenance that can help fix malfunctioning thermostats, change furnace filters, and so much more. Contact us today to keep your indoor air quality at peak levels, and don't forget to change out that furnace filter!