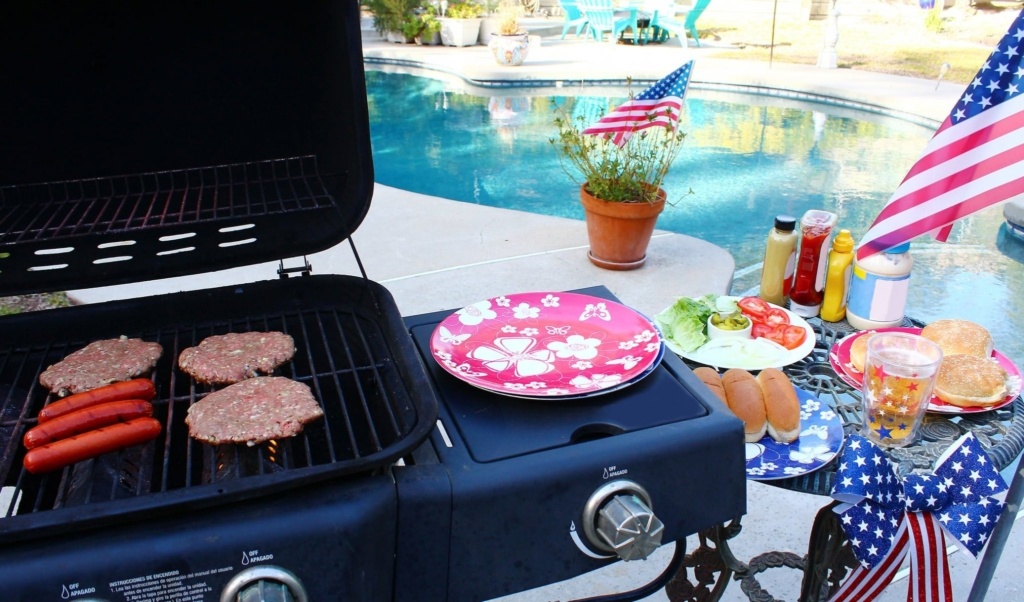 Check Out Our Red, White & Blue Purchasing Tips
Everyone celebrates 4th of July a little bit differently. Some may spend it at home with their closest family and friends, while others spend it surrounded by groups of unfamiliar faces getting lost in a sea of red, white and blue. But, across the nation, there's one thing that's a staple in every freedom celebration—and that's food.
This year, our team at Peachtree Comfort Gallery is here to make sure you fire up your freedom celebration the right way—with the perfect outdoor cooker. So, whether you're just lifting the lid to the possibility of purchasing a new outdoor cooker or you're actively in search of barbecues for sale in Gwinnett County, GA, we took the liberty of putting together tips and tricks that will help you sort through the smorgasbord of outdoor cookers on the market. With our help, you can find an outdoor cooker that's just right.
From Grill to Shining Grill
From electronic igniters to fuel gauges to gliding drawers for storing utensils and condiments, the possible features your outdoor cooker can possess is endless. Because of this, you might find essential and add-on features confusing. From a distance, you can probably distinguish between the two easily. But in the heat of the moment when it's time to make your buying decision, it can be a different story.
So, to avoid purchasing unnecessary features while still choosing those grilling essentials, it's crucial you know the exact features you want and need your outdoor cooker to possess. To do this, we suggest you make three lists: One that highlights the features your outdoor cooker must have, another that mentions the features that you would like your outdoor cooker to have but aren't a necessity and a third list that contains features you can live without but would be an added bonus. As you browse through the menu of options, this preparation will ensure that you stay on track and avoid temptations from leading you astray.
Here are a couple aspects to consider while making your lists:
Does your grill cook evenly? From grate to grate, food that's cooked on a grill that disperses its heat evenly will finish at the same time. When it comes to cooking burgers and hot dogs, this is a key feature.
Is your grill the right size? A grill that's too large is a waste of space and may cook your food too fast, while a grill that's too small can increase your food's cooking time significantly. Plus, it's important to consider whether your grill is the right size and configuration for your yard, too.
How Patriotic Is Your Menu?
Regardless of how carefully you select your ingredients or precisely you prepare the foods you serve, the success of your meal often comes down to one thing: Your grill's cooking proficiency. Essentially, is it capable of handling the foods you're most likely to be cooking?
You see, the "perfect" cooking temperature varies from one type of food to the next. For fish and other delicate items, lower temperatures are preferred. However, much higher temperatures are required for cooking pizza or searing steaks. But not every outdoor cooker is equipped to handle a wide temperature range. That's why you want to make sure your grill's capable of cooking every item on your cooking menu expertly.
So, think about the types of foods you cook most often and the ones that you never prepare. If your menu is limited, then choose a grill that's proficient at cooking within that range. However, if your choice of food varies, then you're going to want a grill that offers a wide temperature range. This ensures it can handle firing up your broad taste in food.
Star-Spangled Safety
From a novice to a grill master, safety is one of the most important qualities to consider when purchasing a new outdoor cooker. You're probably well-versed in how to stay safe near the grill. But it's just as important to keep your family and guests, including young children, safe. Unless you stand guard at your grill from the moment you fire it up until it cools down completely, anyone could touch or bump into it. That's why you should search for a grill that produces adequate heat inside the grill, but is safe to touch on the outside.
Is Your Next Grill Cooking in Our Showroom?
This 4th of July, get a taste for freedom by firing up the outdoor cooker you truly deserve. Curious where to purchase gas grills in Fulton County, GA? That's easy—right inside our showroom. Come visit today! Or, if you would like to speak to one of our professionals right now, fill out our online form or call us at 770.268.2010!